IMpossible Boss
A downloadable game for Windows
About This Game
Impossible Boss is a 1 on 1 raid game with control of a player. The point of this game is to attack a boss and chip away at its stamina.
It has the high-level of difficult so also require the practiced controll.
One mistake can make you die at once.
You need to pay lots of patience and time for this.
Sure, you never gonna be able to hurry up.
You should observe the bosses' the timing, the move, the gesture from their attack to be over this game.
You can play the trial-version of this.
When you clear this, you can get the code.
We serve the single-mode yet.
After stabilizing, We can offer the multi-mode.
For the last time, We will update this game more difficult as the number of people who getting the code is higher.
1.Skill Description
link: http://blog.naver.com/choms95/220722303812

2.Buff effect Description
Heal Buff
Prompt recovery
HP + 400
MP + 50


Attack Buff
Damage +30
Duration : 20Sec
E Button buff can be nested
Debuff
Boss Hp - 1000
Power Shield Buff
Invincibility
Duration : 12Sec
Death Buff
50% / 50% Full Recovery or Die
Full Recovery or Die
Aura Buff
Boss Hp - 40 per Second
Speed Buff
Speed + 2.5
Duration : 15Sec
All buff disappears after 30 seconds and Re-created in 90 seconds
3.Stat Description
The knife shape damage gauntlet shows power and the arrow agility angel means intelligence.
4 powers lead to +1 of health recovery, 1 agility leads to +3 of damage, and 5 intelligences
lead to +1 of horsepower. When the character's attack reaches the boss, the gage rises and
when the gage is full the stat automatically rises. The gage rises quicker upon attack order.
When you fill the gage +2 powers, +3 agilities, and +1 intelligence rises. The maximum health
is *100 power and the maximum mana is *20 intelligence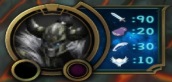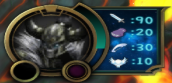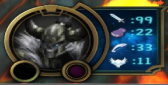 Damage/Power/Agility/Intelligence
You can get the details - like keypads, explanation for skills and so on - from this blog, http://blog.naver.com/choms95

You can download demo version
Download
Click download now to get access to the following files: